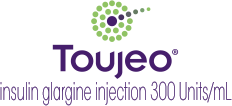 TOUJEO IS A LONG-ACTING INSULIN
OPTION THAT MIGHT HELP APPROPRIATE PATIENTS WITH DIABETES
Building on a strong tradition, the makers of Lantus® created Toujeo, which shows more stable daily blood sugar levels than Lantus. Plus, the Toujeo Max SoloStar® pen has 600 more units of insulin than Lantus, which may allow for fewer long-acting insulin copays per year depending on dose and prescription insurance coverage.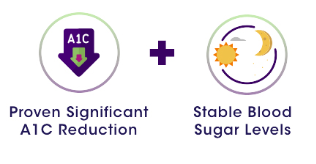 Toujeo should be taken once a day at the same time each day.
†One unit of Toujeo has the smallest injection volume compared to 1 unit of any other long-acting insulin.
‡Toujeo SoloStar study performed in a laboratory environment; doses were not delivered into tissue.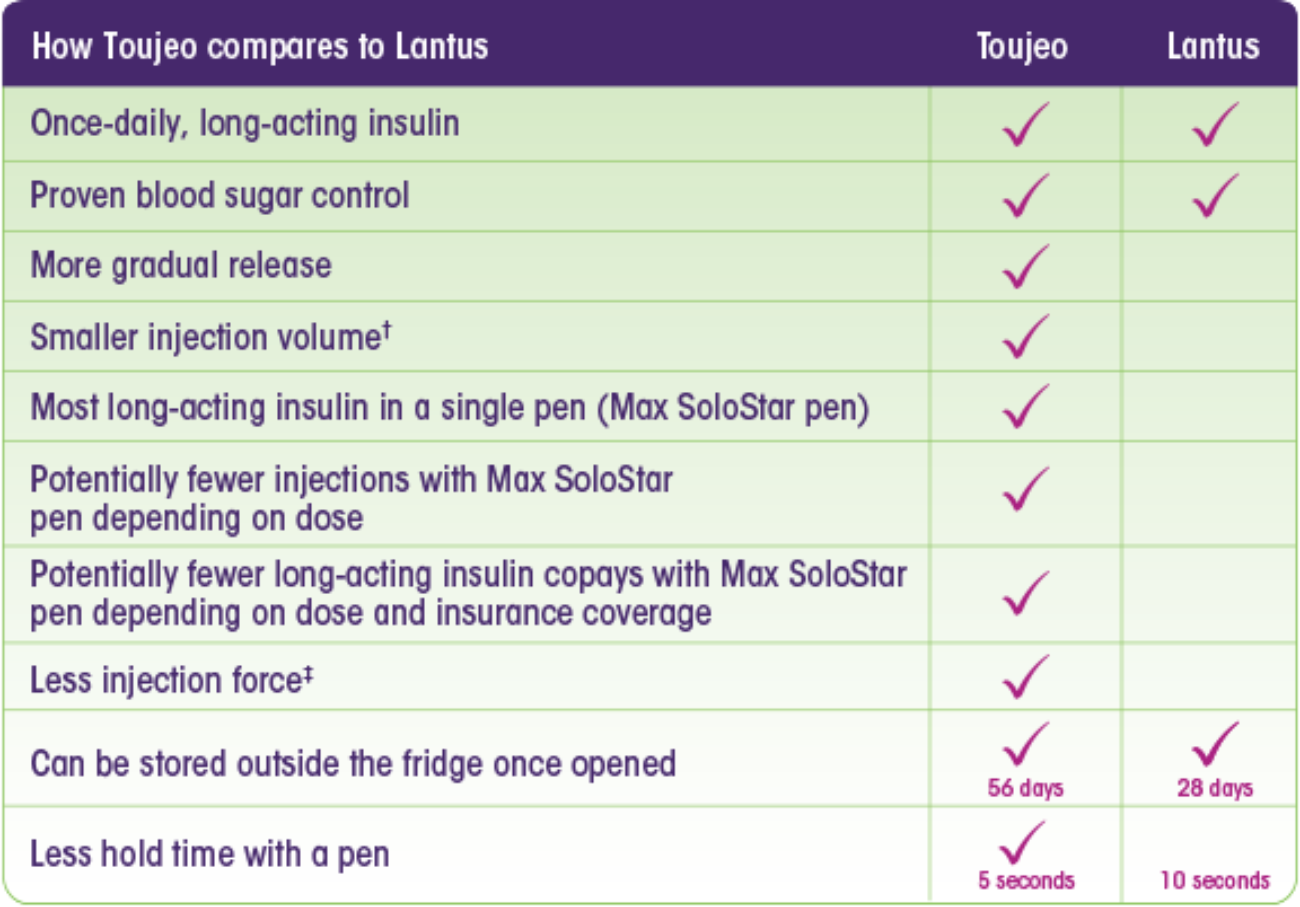 Toujeo is a long-acting man-made insulin used to control high blood sugar in adults and children who are 6 years of age and older with diabetes mellitus.
Toujeo is not for use to treat diabetic ketoacidosis
It is not known if Toujeo is safe and effective in children under 6 years of age
GET QUESTIONS TO ASK YOUR DOCTOR ABOUT TOUJEO
Whether you're new to insulin or already on it, be prepared for your next doctor visit with our downloadable thought starters.

FOR ADULTS WITH TYPE 2 DIABETES with A1C ≥9% struggling to meet their A1C goal

SOLIQUA® 100/33 delivers powerful A1C reduction. SOLIQUA 100/33 combines Lantus®, a long-acting insulin, and a non-insulin diabetes medicine, that work together, along with diet and exercise, to help lower A1C in adults with Type 2 diabetes. Individual results may vary.

Works 5 ways throughout the body.
SOLIQUA 100/33 does more than insulin alone. It works 5 ways to deliver blood sugar control and help lower A1C.
SOLIQUA 100/33 is an injectable prescription medicine that contains 2 diabetes medicines, insulin glargine and lixisenatide, which may improve blood sugar (glucose) control in adults with type 2 diabetes when used with diet and exercise.
It has not been studied in people with a history of pancreatitis.
It is not recommended for people who also take lixisenatide or other medicines called GLP-1 receptor agonists.
It is not for use in people with type 1 diabetes, or people with diabetic ketoacidosis.
It has not been studied in people who have a stomach problem that causes slow emptying (gastroparesis) and is not for people with slow emptying of the stomach.
It has not been studied in people who also take a short-acting (prandial) insulin.
It is not known if SOLIQUA 100/33 is safe and effective in children under 18 years of age.

Important Safety Information for SOLIQUA® 100/33
What is the most important information I should know about SOLIQUA 100/33?
Do not share your SOLIQUA 100/33 pen with other people, even if the needle has been changed. You may give other people a serious infection, or get a serious infection from them.
Please see Important Safety Information below.
Please see Full Prescribing Information.
ASK YOUR DOCTOR ABOUT SOLIQUA 100/33
Talk with your doctor about reasons why you may need a diabetes treatment that is more than insulin alone.
What is Lantus® (insulin glargine injection) 100 Units/mL?
Prescription Lantus is a long-acting insulin used to treat adults with type 2 diabetes and adults and pediatric patients (children 6 years and older) with type 1 diabetes for the control of high blood sugar.
Do not use Lantus to treat diabetic ketoacidosis.
Important Safety Information